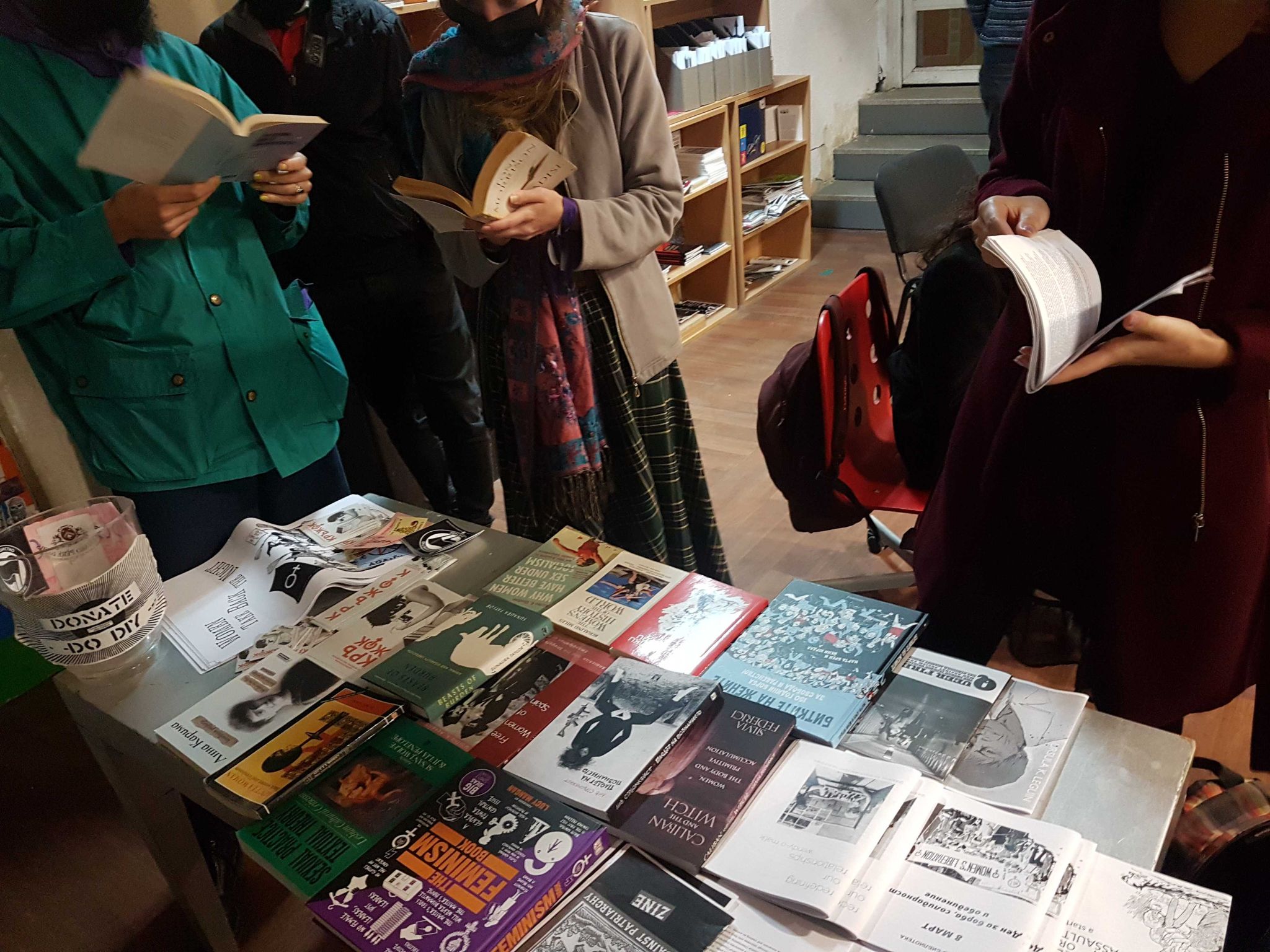 "Queer Blitz" is a new Bilitis activity that will aim to show you some of the most prominent, inspiring and colourful supporters of the cause of LGBT+ rights. People worth knowing, following and sometimes just letting inspire you. Today we present to you… Addie, Eva and Emma from KRAZHOK , a discussion club on equality issues explored through film and literature.

Who are you? Introduce yourself.
Addie: Hi, my name is Adriana. I'm a member of KRAZHOK and I'm currently a student at Sofia University.
Eva: My name is Evelina, I'm a member of KRAZHOK and I'm studying at Sofia University.
Emma: Hi, my name is Emma and I'm an almost graduated student with diverse interests. In high school I started to get into social projects, they seemed quite natural in their form – just "by the people – for the people". 
Tell us about KRAZHOK. Why is it important to have such initiatives?
Eva: Circle for me is a place where I can find unexpected common experiences with other participants. The idea is to watch films or read books that show us different aspects of the female experience. Alongside these things we start themes that seem to unite us and help us recognise common experiences. They make us not feel alone in them and we find ways of coping. For me, this initiative is important precisely because of that.
Addie: Krazhok is a club where we look at literature and films together, focusing mostly on topics that affect gender equality in society. This way, in an informal and supportive environment, we can come to discuss more substantive issues and exchange ideas and experiences. Such initiatives are important because it starts the conversation in an accessible way about all that is considered taboo to discuss in patriarchal society, in parallel helping us to understand our own experiences.
Emma: One of the reasons I'm part of KRAZHOK is the need for a place like it in itself – a place and especially people to educate each other on topics that aren't discussed, or if discussed, it's often with derision or disdain. Such topics are, for example, the dreaded word feminism (which is not just about women), patriarchy (whose manifestations we are so deeply accustomed to that we often fail to acknowledge and distinguish), colonialism and capitalism (which go hand in hand and are based in their nature not on people and their well-being but on matter and competition). At KRAZHOK we come together with people of different ages and professions, coming from different experiences and worldviews, to consider just such questions; together we choose films or texts that suggest a similar orientation and create a "safe space" in which to learn all that we can give each other from experience or knowledge; we create a space where you don't have to be knowledgeable or capable (whatever that means), but just someone who wants to understand why and how these topics are significant. In fact, that they are not just topics for discussion, but a reality that has consequences on people and their way of life (e.g. violence, oppression, inequality/equal access/etc.). The most valuable thing to me about KRAZHOK is that we learn that we can not live at each other's expense (even literally speaking, given the world economic order), but look well beyond our own breadbaskets. And to learn to live with people with different bowls.
What makes you stand up for the feminist cause?
Eva: I was socialized as a woman, I grew up with 3 brothers and I always felt the difference between us. The more I grew up, the more I saw it and wished I could somehow transcend those limitations. For me, feminism is the way to do just that.
Addie: My motivation to advocate for the feminist cause lies in wanting to change for the better on both a personal and institutional level. I believe that we should fight for the rights of all women regardless of their ethnicity or race, sexual orientation or status as a trans woman, financial status, etc. I believe that everyone deserves to lead a better and more dignified life in a more just society.
Emma: What I feel most strongly about is that the issue is considered closed. As I recently heard from someone – women's emancipation was achieved a long time ago… We don't even take into account the fact that nowadays women usually have two full-time jobs – the one at work and the one at home. Because she is also a housewife. How come I haven't heard of a male housewife? Also, we're talking about all feminised jobs here (even in speech we mostly use "cleaner", "teacher" – again falling into a kind of caring work), not "engineer", for example. A similar example is the objectification of women with tenderness and submissiveness, treatment as sexual objects and other kinds of not only physical but also emotional and psychological abuse. The concept of feminism is largely unknown to us, which leads me to find it essential.
Krazhok often touches on the LGBTI issue, why do you think it is important to have an intersection between the two causes?

Eva: The LGBT community and women are often victims of this kind of violence. In general, we often see how society considers femininity to be something offensive or just hypersexual, as if we can only exist in these two dimensions. This same femininity is attributed in one way or another wa representatives of lgbt society – oversexualization or insult to/from femininity.
Addie: The experiences of women and people in the LGBT community often have commonalities, and I think the struggle for equality and the elimination of discrimination, both in its systemic and its societal manifestation, towards all marginalized and oppressed people is a common one. For real change to be achieved all such causes must be intersecting and equally important.
Emma: The LGBT+ community falls into one of the marginalized groups for a number of reasons. Some of these are hatred and violence directed at LGBT+ people; often economic hardship, rejection by family and friends, problematic workplace situations that are not recognised by legislation. Inequalities in childcare, medical care and other services which are provided to citizens but which LGBT+ people cannot benefit from because they are not recognised as existing in those circumstances by law (e.g. marriage abroad which has no value in Bulgaria) are also a serious problem. I find the struggles associated with feminism and those for LGBT+ rights to be similar, in terms of the place in which both 'groups' of people are placed – their difficulties with the system and perceived norms.
If you could say anything to your 12-year-old self, what would it be?
Eva: Hey, the stuff you're going through is not normal, it's just normalized. I'm sorry, it's going to take a long time for the people around you to understand that too.
Addie: Don't be afraid to stand up for yourself, even if you're just a little girl in everyone else's eyes. Soon you will find your voice too.
Keep an eye out for upcoming events and KRAZHOK on the Feminist Library page