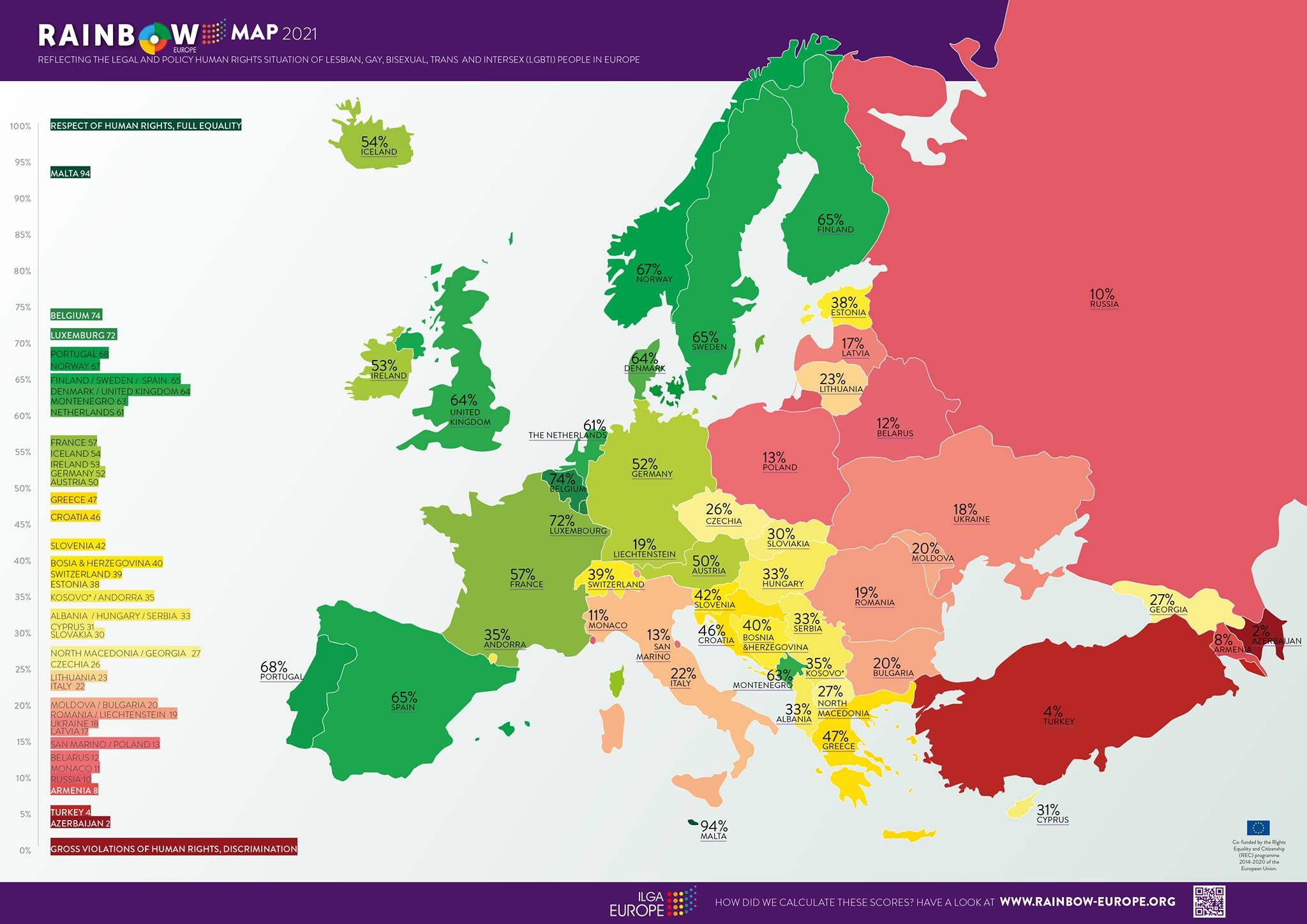 It is time to talk again about the rights of the LGBTI+ community in Europe, and this year's Rainbow Map shows a worrying stagnation.
#RainbowEurope 2021 reveals widespread and almost complete stagnation on the rights of LGBTI+ people in Europe. Now is a time when governments can proactively get on the right track, say the ILGA-Europe.
On 17 May 2021, ILGA-Europe's annual Rainbow Europe map was released, ranking the legal and political situation of the LGBTI+ community in 49 European countries. It finds that over the past 12 months, progress on rights has almost come to a halt. But with legislative proposals and action plans on the table in some countries, governments now have an opportunity to ensure the map will look very different next year.
Released every year since 2009 on 17 May, the International Day Against Homophobia, Transphobia, Biphobia and Intersexophobia (IDAHOBIT), the ILGA-Europe Rainbow Map ranks all 49 European countries on a scale between 0% (gross human rights violations, discrimination) and 100% (respect for human rights, full equality). The last 12 months have marked an unprecedented year in the 12-year history of the map's publication and almost no positive legislative change for the LGBTI+ community in Europe.
Among the most interesting findings from this year's edition of Rainbow Europe are:
Almost no positive change in countries like Albania, but Finland and Portugal climb in the rankings.
Despite clear commitments to recognising LGBTI+ families, no country has moved towards recognising partnership or parenthood.
After reporting positive changes in bodily integrity or legal gender recognition for many years, there have been no changes in intersex and trans rights this year, except in Iceland.
Positively, some countries (Bosnia and Herzegovina, North Macedonia) have greater freedom of assembly, reflecting safety improvements at public LGBTI+ events
ILGA-Europe's Executive Director, Evelyne Paradis adds, "The almost complete standstill on LGBTI+ rights and equality is deeply worrying, especially at such a critical time for the community. Over the past year we have seen increased political repression against LGBTI+ people, a sharp rise in socio-economic hardship and an increasing prevalence of hate speech on the streets and online. Against this backdrop, the response of governments must be for more concrete and clear action to ensure that people are better protected. The human rights of the LGBTI+ community is simply not something that can be ignored, regardless of the situation."
And what is the situation in Bulgaria, can be found here.