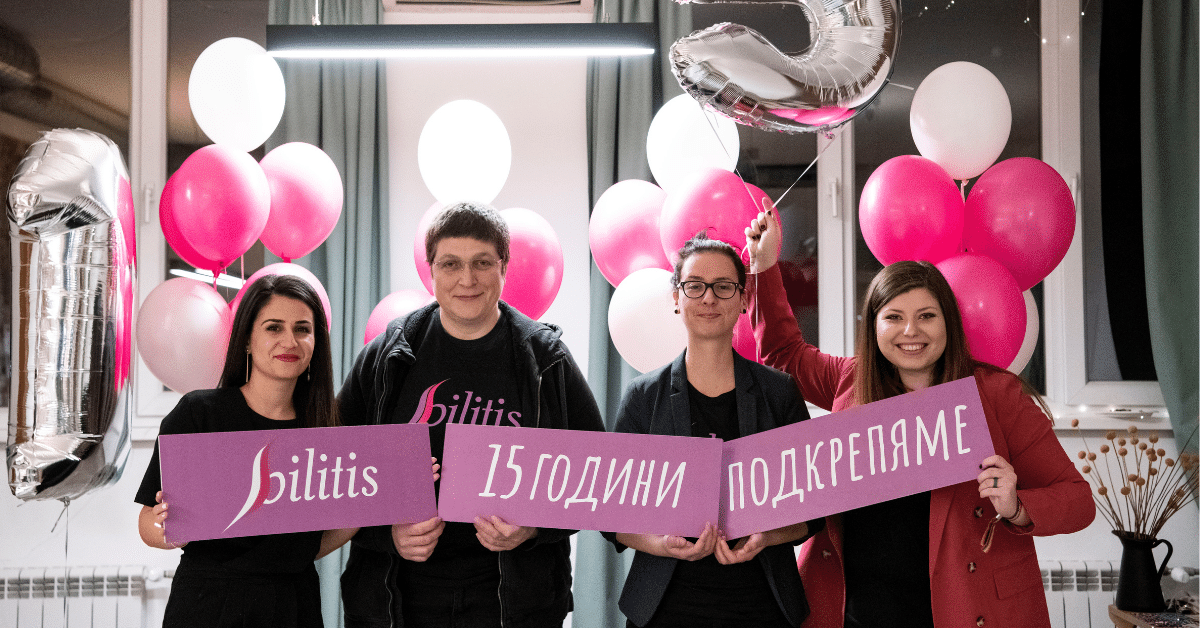 15 of the victories that make us most proud for the 15 years after the founding of Bilitis
Fifteen years ago, a group of homo- and bisexual women formed an informal group where to communicate with people like them, led by the need for a female community in which to be themselves and explore their sexual and gender identities, and the diverse LGBTI culture.
Gradually, the group starts to organize different activities like a literary club and sport events, as well as a self-help group, where everyone can share freely and receive advice and support from the others. And just like that in 2004 a small, close-knit community of queer women is formed and Bilitis is born – the first LGBTI organization led by women and focused on women's needs and rights. Bilitis' team has changed over the years, its mission, however, remains the same today – empowering LGBTI people to stand up for their rights, along with eliminating all forms of discrimination and reaching complete equality for LGBTI people in Bulgaria.
15 years may not seem like a long time, but for a small community organization on the Balkans it actually is an awful lot (of time). These 15 years make Bilitis the oldest active LGBTI organization in Bulgaria and we are proud of standing the test of time despite the political obstacles and still being on the frontlines in the fight for equality of LGBTI people in Bulgaria. Bilitis is an activist incubator. Many of the leaders of the LGBTI movement today started their activism as Bilitis volunteers.
Let us recount the way we've walked until now, the difficulties and successes, the obstacles and the victories. We invite you to join us in celebrating our anniversary and to take part in our activities, so that we can build the future of our community together.
1. Bilitis – a dream comes true!
Monica Pissankuneva is the first Bulgarian lesbian-feminist who, in the 2000s, publicly talk about her sexual orientation and the need for legal recognition of lesbians and gay men in Bulgaria. In 2004, Monica brings together a group of like-minded women with whom the foundation "Resource Center Bilitis" is launched. The name Bilitis is well-known in the lesbian community – the first lesbian bar in Sofia, which had a brief existence in 2000-2001, also carries this name. Legend has it that Bilitis was Sappho of Lesbos' most devoted student, who continued the legendary poet's work, praising love between women. Monica chooses the name Bilitis as a code name for an organization which links its mission to the rights of lesbians and bisexual women. Few people in Bulgaria know the legend of Bilitis, which allows the organization to grow without putting its members at risk of disclosure.
For the purpose of legal registration 7 women (out of over 20 who regularly have been coming together in a self-help group since 2003) provide their personal data; most of them, however, do not agree to their names being publicly announced.
Bilitis emerges as an organization whose initial aim is to build a community and provide a safe communication space for lesbian and bisexual women.
2. Out of an activist camp the idea of Sofia LGBTI Community Fest is born
Through its close work with the community, the team of Bilitis notices a need for further development of young activists' potential, their familiarization with the history of the international LGBTI movement, as well as for developing their skills in working with institutions. That is why, in August 2015 in Varna, the first activist summer camp for lesbians and bisexual women is organized. The camp attracts 15 participants from across the country. Over its course, the idea is born that participants report about the initiative through a photography exhibition, which, in consequence, gets developed further and the first edition of Sofia LGBTI Art Fest, later Sofia LGBTI Community Fest, is born. The Center for Culture and Debate "The Red House" is the main host of the fest and a valuable partner of Bilitis for 10 years, during which they provide a safe space and free support for the realization of the art initiative.
In December 2019 Sofia LGBTI Community Fest also celebrates its 15th anniversary, offering a rich program consisting of workshops, discussions, exhibitions, a theater spectacle, magic sessions and a final party with drag performances.
3. Contribution to academic studies on sexuality
Monica Pissankuneva's main goal as Bilitis'founder is to contribute to a change in attitude towards LGBTI people in all areas in the country. Already at the beginning of the 2000s, Monica teaches an optional course called "Sexual identities" at New Bulgarian University, where she creates awareness among the students about the history of sexual and gender identities, as well as the history of the lesbian, gay, and trans equal rights movement. Framing the topic as an object of academic research is one of the methods Monica uses in order to achieve a critical re-thinking of the norms which discriminate against LGBTI. Despite the students' interest, the course is dropped from the program 2 years later. That is when Monica decides to transfer the role for the development of scientific studies on sexual and gender identities over to the foundation established by her. This idea finds its continuation in a number of studies and publications realized by Bilitis. Recognizing the importance of this type of research, Bilitis develops as an intersectional organization, which from its very beginning focuses on a deep/complex understanding of sexual and gender identities, initiating studies and analyses on the diversity in the LGBTI community.
4. Defender of trans and intersex rights
Bilitis is among the first who start taking up cases on the legal gender recognition of trans people; in 2012 it publishes an analysis on the legal practice in this sphere from 2000 on. The foundation gets in touch with a couple of Bulgarian attorneys with experience in human rights and helps raise their sensitivity to the needs of trans and intersex people. In 2015 Bilitis opens the first case for legal recognition of an intersex person's gender in Bulgaria, which has a successful outcome in 2017. Over the years the foundation provides individual consultation in support of trans and intersex people, including directing them to suitable doctors and lawyers and providing help in the form of clothes and covering the medical expenses of people living in extreme poverty. The aid the organization provides to trans and intersex people, however, is not limited to people outside of Bilitis. Over time, it becomes clear that some of the board members, who self-identified as lesbians when the organization was founded, are intersex or trans people. The support they've received from Bilitis gives them the courage to disclose their gender identities.
This way Bilitis becomes the first organization in Bulgaria to include trans and intersex people in its executive team and from 2009 on starts systematic work for their visibility and rights.
5. Self-help groups – our trademark
From its very founding in 2004, Bilitis starts organizing self-help groups aimed at lesbians, bisexual women and trans people. The only meeting locations back then are the so called "safe spaces" such as private homes or LGBTI-friendly public spaces like the The Center for Culture and Debate "The Red House" and some of the community's pubs. At the end of 2017, the self-help group for lesbian and bisexual women is reborn under the name QueerFemme, including trans and queer women. Inspired by its success, with the active participation of Bilitis' members, two more self-help groups are brought to life: a group for LGBTI youth named BraveLab and T.I.A. for trans and intersex people. These groups provide their participants with a safe space for sharing, receiving and giving support, developing their abilities and contributing to the development of the LGBTIA community.
6. Bilitis takes over the organization of Sofia Pride
After the first ever Sofia Pride takes place in 2008, in 2009 there is a risk a second pride is never to be held since the organization that initiated its creation suddenly terminates its activity. In accordance with the legal procedures of the time, the organization of the procession requires a legal entity to take over the coordination with public institutions. That is how, in the spring of 2009 Bilitis assumes the role of communicating with Sofia Municipality and SDVR (Sofia Metropolitan Directorate of Interior) in connection to ensuring safety and security measures. The foundation also takes on the commitment to manage the budget of the Pride, assuring accountability to the public about the donations received and expenses made.
Since 2009 Bilitis has been a contact point within the organizational committee of Pride, which includes many individual volunteers. After 2012 the committee expands its membership with the joining of the Bulgarian Helsinki Committee and the newly founded Youth LGBTI Organization "Deystvie", followed by the newly founded "GLAS" Foundation.
7. Schools for everyone, including LGBTI – our first international project
In 2011 the project "Schools for everyone" sets itself the goal to reduce homophobia and transphobia in schools creating interactive aids for teachers, who collaborate on introducing LGBTI topics into the school environment. This is our first international project, implemented together with the Danish Institute of Human Rights and a total of 10 human rights organizations from 10 European countries. Two schools in Sofia partnered with us on the project and 4 teachers participated in a training in Denmark in order to increase their competence in leading an informed conversation on topics related to sexual orientation and gender identity. As a result of the project, pilot educational modules were introduced and met with great interest by the students. The main message of the project is that every teacher can use some of their time to talk to students about the things of life and to form an accepting and informed stance on matters related to sexual orientation and gender identity. This message is still valid today and we continue our work towards developing inclusive education in Bulgaria.
For Bilitis this is an important step towards international activism and laying the foundation for work in the field of education, as well as a beginning of lasting activities in partnership with LGBTI organizations from Europe and around the world.
8. First won lawsuit of intersex person for legal acknowledged sex
Paul Naydenov co-chairman and one of the founders of Bilitis became the first intersex person, who changed his civil sex in his ID documents in Bulgaria. On February 22-nd 2017, after two appeals of previous legal outcomes, Paul wins the lawsuit in Sofia Civil Court, which he lead more than two years. It lets for the first time in Bulgaria an intersex person change his ID documents in correlation with the sex he identifies with. In reference to the court's decision, Paul shared he celebrates his second birthday, "My personal cause is change of the attitude for intersex people and stopping the traumatic and unneeded medical practices for "modeling" of sex among intersex children, which I was exposed to as a teenager."
For the long-term activity in defending intersex people's rights, Paul received the special price "Perseverance and bravery", which is served by Bulgarian helsinki committee for contribution to human rights.
9. Work in the field of sport
The sport field is often – unaccessible and unfriendly for LGBTI people. A lot of LGBT athletes are afraid to come out or drop out from sport, because they face mockery, rejection and even aggression. From its founding Billitis includes sport activities like volleyball club for lesbians, football sport weekends for women and other activities which are not just a way of having fun, but a call for more tolerance in the sports field. That is how Billitis becomes a member of the international net FARE (fighting against discrimination in football) and EGLSF (European gay and lesbian sport federation) and in 2014 organizes tolerance fest in sports. The fest includes projections, еxhibitions and sport events. Special guests are Paul Eliot, ambassador of FARE and ex-player of Chelsea – the English football club, and Claus Hoyslain, president of EGLSF.
Being inspired from Billitis experience in the sports field, in 2018 the team added a new member to Sofia Pride's – the sport festival Sofia Pride Sport, offering different sport events as a part of the full Pride program, pointed to LGBTI people and their supporters.
It's our dream to overcome the prejudices in sport to LGBTI people, especially non-binaries, to all who are not in the frames for man and women and have faced insults and limitations. We want all LGBTI people to have access to safe sport spaces.
10. Work in the field of advocacy
Billitis expands it's advocacy activity after 2009. The first advocacy initiatives are connected to Sofia Pride and an insistent to the institutions to cancel the requirement of paying the security from the organizers of the event. In 2014 because of increased attention to LGBTI rights regards to Euro elections, Billitis organizes a campaign "ComeOut for LGBTI Rights" in Bulgaria, in which candidates for euro representatives must claim in public their support to LGBTI community as signing an official pledge they will protect LGBTI rights if they to be elected. Thanks to the campaign 4 of the candidates from Bulgaria sign the ComeOutPledge, distributed at European level from ILGA Europe as one of them Ilhan Kiuchuk is elected for euro deputy. At the same time Billitis does hate speech monitoring during the euro elections campaign along with the Center for Interethnic Initiative and publiches a report with results.
Following this successful campaign we proceeded with lots of advocacy activities in different fields like: improving access to therapy for HIV patients as in 2018 we succeeded in prescribing long-term receptions for antiretrovirus therapy; marital equality and the free movement right for same sex families in the EU, in which support in 2019 we gathered more than 17 000 signs in petition of European level; and incriminating an anti LGBTI crime as hate crimes in Bulgarian legislation. In May 2019 we joined again the ILGA-Europe ComeOutPledge campaign which called the deputy candidates in the European parliament to protect the human rights and no matter the bad social scene Mr. Toma Belev from "Democratic Bulgaria" signed a public pledge. For all the initiatives we work together with the colleagues from GLAS foundation and Youth organization "Deystvie".
Billitis applies an advocacy approach based on facts as arguments for our campaigns are exported from quality researches, which we conduct and they meet LGBTI community needs. At the same time our advocacy actions aim to improve the enforce of anti discrimination legislation and international law standards to which Bulgaria has joined.
11. Creating resources
The lack of any data about LGBTI people in Bulgaria was recently an obstacle which was making our job difficult. That's why in 2010 we became the first LGBTI organization which started to make some researches amongst the community aiming to learn more about the life of LGBTI people in Bulgaria, their experiences, difficulties and successes. The field we made researches in so far are: violence during a date and domestic violence for lesbian, bisexuals and trans women; quality and quantity research of status of students and teachers in high schools. Status of LGBTI families in Bulgaria. Researches in anti LGBTI hate crimes. The results from these researches give stable base for our advocacy activity and work with institutions. So regards these researches we published lots of education material.
Work with victims of hate crimes guide
Education materials for people working in medical environment for LGBTI patients
Action guide if you have become a victim of hate crime for LGBTI people
"How to be supporters for intersex rights" guide
These materials are base for educations which we conduct for specialists who work with LGBTI people – people working in the medical field, social workers and law enforcement representatives.
12. Rainbow Hub opening
LGBTI community didn't have a safe space for itself, where people can find support and feel free to be themselves. This lack was felt not even in the everyday work, but on every LGBTI event, when people shared their need to meet more often and share between each other.
In 2018 we gave birth to one of our bold dreams and opened Rainbow Hub, the first community LGBTI center in Bulgaria in partnership with GLAS foundation and Youth organization Deystvie.
Rainbow Hub quickly became a home to LGBTI community in Sofia, attracted a lot of people from the whole country and became a great place for meetings with our partners from Europe and the world.
13. Billitis on the international scene
As a civil organization, Billitis always has been striving to be a corrective of the institutions as in the same time supports and provides its professional opinion in different national, international or intergovernmental organizations. We are proud we managed through years to establish a strong partnerships and we are part of the international net ILGA Europe, Transgender Europe, EGLSF (European gay and lesbian sport federation), FARE (net of organizations who fight for overcoming discrimination in football and sport) and OII Europe, who is fighting for intersex people rights in Europe. Recognition for our contribution on the European activist stage are the international positions, taken from our colleagues. As and long years activist for intersex people rights Paul Naydenov is one of the founders of OII Europe and currently a member of the board. The general manager of Billitis Lilly Dragoeva is a regional director for the Balkans and a member of the board of InterPride, world association of Pride organizers and a secretary of EPOA board – Association of European pride organizers.
These positions help us to contribute in the European LGBTI community development and to put Bulgaria on the map of international movement for LGBTI rights, based on the support and solidarity for the same organizations in the whole world.
Starting with participation in international forums, trough preparation of expert reports to providing statements for current cases, Billitis team has proven itself as a reliable partner in preparation of public politics.
14. Our team a.k.a. power to the people
It started its activity as a 100% voluntary organization, today Billitis is proud with its permanent team! Attracting and keeping motivated professionalists, who chose to work in LGBTI organization is a hard task. From two people working flexible in 2009, in 2019 we already have four employers on a full working day, one on flexible hours and over 10 permanent volunteers. The expert help of volunteers-professionalists are in different area as web design, online marketing, organization of sport activities etc. is a one of the proofs for the institutional growth of Billitis trough years. The team of Billitis consists brave activists, who work for LGBTI community empowerment. Experienced in everyday fights for rights lead as an activists before taking a payed position in the organization, the members of our operational team Lilly Dragoeva, Paul Naydenov, Gloria Filipova and Boryana Atanasova are amongst the most pronounced leaders of the LGBTI community in Bulgaria.
Without the active volunteers of Billitis, we wouldn't be able to organize and conduct successfully Sofia LGBTI Community Fest, Sofia Pride Sport and Sofia Pride itself. We wouldn't be able to have a regularly updated web site, events and campaign photos connected to the strategic communication. To all the volunteers who are taking the time to work from a full heart for realizing our mission, we want to say a big THANK YOU!
15. Support from donors and supporters – thank you!
Trough years Billitis successfully earned the trust of different donors and financing organizations, who believed in our cause and supported our efforts to improve the environment for LGBTI people in Bulgaria. We want say special thanks to the women funds MamaCash, Astrea, Global Fund For Women and Urgent Action Fund, who were brave enough to support us in the first years of our existing. We are proud that in the last several years behind Billitis have stand donors like American embassy in Sofia, European commission and Active Citizens Fund Bulgaria in Financial Mechanism of EIP.
Billitis wouldn't be celebrating its 15-th birthday without many partners and individual donors, so to all of you – A BIG THANK YOU.