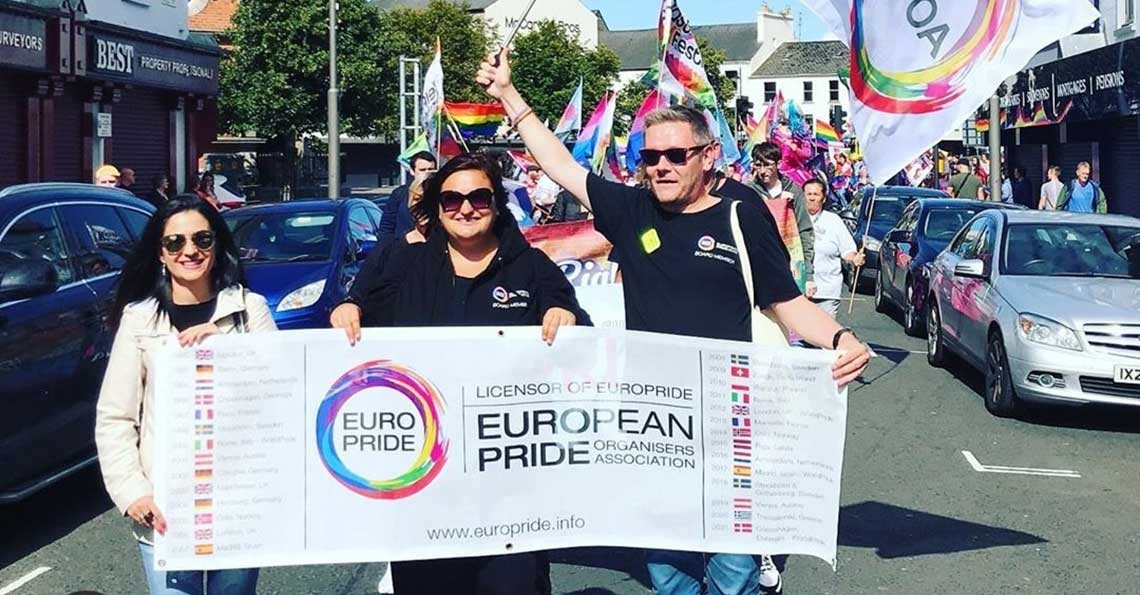 On August 30 and 31, 2019, Lilly Dragoeva, Executive Director of Bilitis, took part in the third regional UK & Ireland Pride, which took place in the Northern Irish town of Newry. The choice of location is not accidental – Northern Ireland is the only country in the region where same-sex marriage is still not allowed. In order to support local activists in their lengthy struggle for marriage equality, more than 180 UK Prides have appointed Newry to host their regional event, drawing serious international attention to the issue and putting pressure on local politicians.
Lilly visited the Northern Irish town at the invitation of Sydney Pride, a candidate city to host WorldPride 2023. Her involvement was part of Sydney's global campaign to focus on human rights issues for LGBTI people around the world. In addition to the meetings with Pride organizers from the UK and Ireland, Lilly addressed the participants in Newry Pride from the stage, focusing on the situation of LGBTI people in the Balkans and in Eastern Europe. Along with the lack of political support for LGBTI people in Bulgaria and the need to secure their basic legal protection, Lilly spoke about the clashes between participants in the first Pride in the Polish city of Białystok and far-right and neo-Nazi groups in July 2019. Against the background of increasing verbal and physical aggression targeting LGBTI people in different parts of Europe and the world, she called for more solidarity between people.
***
Sydney Pride (known as the Sydney Gay and Lesbian Mardi Gras) is one of the oldest pride marches in the world with a history of over 40 years. More about Sydney's bid to host WorldPride's 10th Anniversary Edition can be found HERE. If Sydney is elected, it will become the first World Pride held in the Southern Hemisphere.